Come join us and be inspired!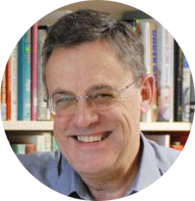 Be amazed at the work and witness of Christians in our nation's story. This aspect of our history is rarely mentioned in standard historical writing.You'll be surprised at who helped to shape the nation and lay the foundation of Christian faith and values in our culture.
Renowned author Stuart Piggins will tour with FamilyVoice Australia to share some of the many stories of great Christians who have shaped Australia.
His book The Fountain of Public Prosperity: Evangelical Christians in Australian History 1740–1914 is a scholarly work that adds the faith dimension neglected by other historians.The book is a vital tool and a great inspiration to us to continue to live out our faith in God by being socially and morally active and courageous.
Each event will also feature Christians currently engaged in ventures of faith – evidence that Christians are still salt and light in our nation.
These events are designed to work for a younger audience as well as mature age people. So we encourage you to bring young people from the teens, twenties and thirties along.
These events are about our Living Hope who inspires and enables Christians of all ages to live selflessly and powerfully for the glory of God and the redemption of our nation. It's a vital message for us today!
Find out more about events near you...