Dear ,
The lockdowns nationally, school closures, and business closures have taken an immeasurable toll on so many hard-working Australian families.

In recognising the role of fathers in families and the importance of Fathers' Day, FamilyVoice is pleased to launch its inaugural Father's Day Photographic Competition.

We are looking for entries from anyone who wishes to recognise the contribution 'Dads' make to the family.

Photographic eligibility requirements are on the FamilyVoice website at https://familyvoice.org.au/fathers-day-competition
The photograph should be a photo that captures 'Fatherhood' and embody those traits highly regarded in fathers such as loving, protective, loyal, fidelity, community spirited and fathers promoting family relationships.

The photos should try to exemplify fathers or grandfathers in family life, work life, leisure life, church life, or in a community life setting.
Entries must be submitted by 20 August 2021
Further details:
Greg Bondar – 0411854115 or greg.bondar@familyvoice.org.au
Please note: Entrants, if they prefer, can email photos to project@familyvoice.org.au clearly stating their name/entry details so we can identify which category the photo is connected to.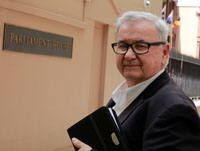 Greg Bondar
National Photo Competition Coordinator