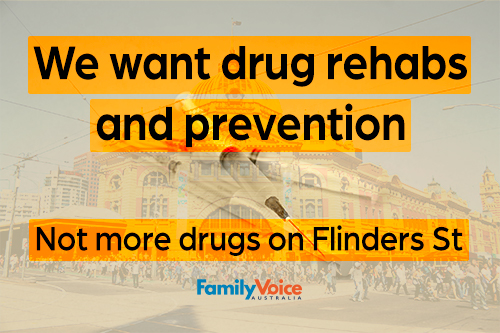 The Victorian state government is pushing ahead with plans to establish a second drug-injecting centre – right in the heart of Melbourne - despite significant failures at its first trial in Richmond.
The state government's purchase of a $40m property in Flinders St, Central Melbourne, and its
blatant lack of transparency about the building's future is another ominous sign that this is a government that cares little about businesses and the public, and everything about its relentless ideology push.
Children at a primary school next to the Richmond injecting centre have seen overdosed people, violence, and drug-affected individuals injecting each other in the neck. Some have needed professional help after being left traumatized by what they've witnessed, according to commentator Rita Panahi. Students had even found a corpse.
What Victoria, and indeed Australia, needs is a balanced and humane illicit drug policy that aims at demand reduction, primary prevention and recovery-focussed rehabilitation.
Compassionate law enforcement approaches overseas, for instance in Sweden and the US, are achieving reduced drug use rates, through early intervention and recovery-based rehabilitation.
Australian drug policy needs a complete overhaul and Victoria should scrap Richmond's injecting centre.
Please Note: This campaign is open to VIC residents only.