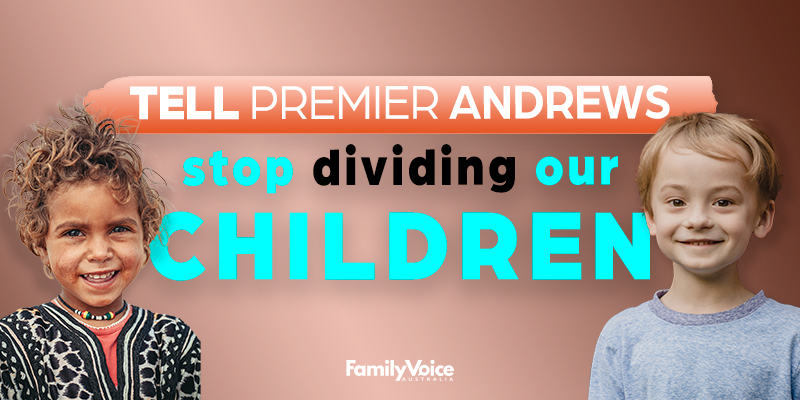 The Andrews government has updated Child Safe Standards overseen by the Victorian Commission for Children and Young People to force schools to expand divisive indigenous reconciliation measures.
From childcare and kindergarten through to year 12, children must be taught about the "trauma" of while colonisation, mark "Sorry Day" and other significant indigenous days, hold welcome to country celebrations, and schools must fly the Aboriginal flag.
The push for a 'culturally inclusive' environment includes a recognition that 'Australia's colonial history has caused significant trauma and hurt that individuals, families and communities still feel'.
Why should children be taught about trauma when many are still struggling from mental health issues resulting from magnified fear of Covid and the longest lockdowns in the world?
The Andrews' government's 'reconciliation initiatives' are a smokescreen for its love for identity politics and societal disorder. Children are naturally accepting of others and rarely notice differences. The new rules "make sure that everybody feels equal" by making school children learn about what divides us.
Ironically, the government plans to "stamp out racism" by highlighting racial differences to unsuspecting kids.
Schools will make changes from 1 July 2022 and should be "compliant" by early 2023.
Newly appointed Senator Jacinta Price doesn't blame colonial Australia, Captain Cook, white privilege or the Australian Government for the ills of her people.
"I was never hindered because I am indigenous,' she said in 2019. "In fact, many opportunities came my way because I was indigenous."
Rather than commemorating "Sorry Day" Mr Andrews should be sorry for the pain he has inflicted, and persists in exacerbating, on all Victorians.
Take a minute to tell Mr Andrews to leave our kids alone.