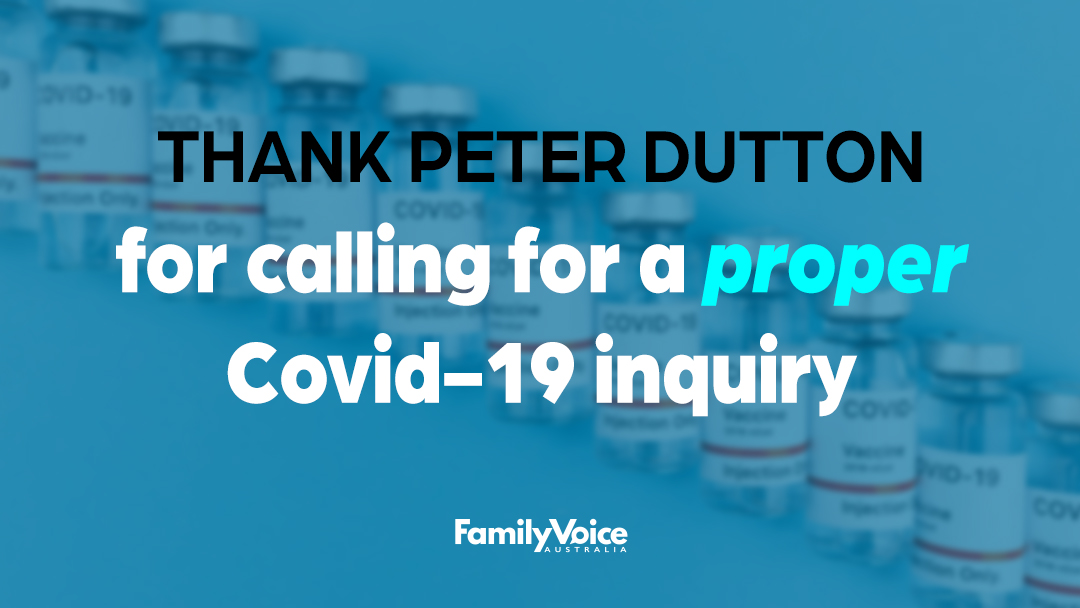 Peter Dutton has said a Royal Commission should be launched into the handling of Covid-19, and urged for state government decisions during the pandemic to be examined as part of the review.
"Firstly, it would see the Prime Minister honour the promise he made to the Australian public about having a proper inquiry. Secondly, it has powers that a normal inquiry doesn't have. It also has objectivity; it is not biased it will present the facts" the opposition leader said on the Today show.
"This was the biggest health event, probably the biggest disruption to our life since the second World War. If there's a pandemic in five, 10- or 25-years' time we should be learning all the lessons of what happened. There's no politics in that. That means we should look at both the State decisions and the Commonwealth decisions."
Human Rights Commissioner and FamilyVoice webinar guest Lorraine Finlay said: "I've been calling for an inquiry for some time, so I welcome the government's commitment to examining aspects of the COVID response such as governance, health response measures and financial, community and international policy supports.
"However, the decision to exclude actions taken unilaterally by state and territory governments means many key aspects of Australia's response will go unexamined. Australia is a federation and needs an inquiry that reflects this.
"Lockdowns, border closures, school closures, mask mandates and many other aspects were the domain of state and territory governments and to not examine these as part of the inquiry means it will be harder for us to improve our response for future pandemics".
FamilyVoice Australia has had a long-standing interest in good governance and a better inquiry would assist in that.
Please send a message to Peter Dutton and thank him for calling for this better inquiry that would help to deliver better future government to Australia.