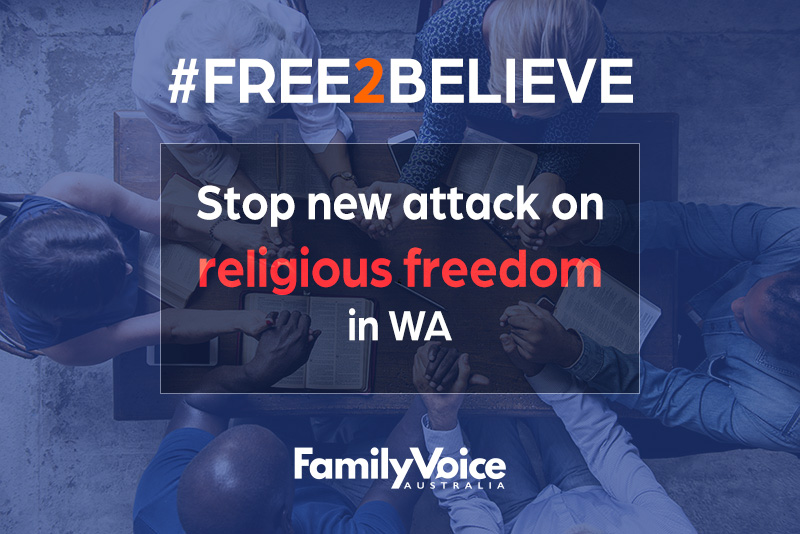 THIS CAMPAIGN HAS CLOSED.
---
Religious freedom in WA in under serious threat. We need your voice by October 29 to effectively oppose draconian proposals from the WA Law Reform Commission.
The LRC review of the Equal Opportunity Act (WA) has suggested:
- Weakening or cancelling hiring protections for all faith-based bodies, schools, charities and voluntary groups.
- Introducing subjective anti-vilification laws that silence traditional, historic beliefs on moral and ethical issues.
- Adding gender identity as protected grounds in the Act.
We have provided a submission template below.
This draft template prepared by FamilyVoice WA:
- Opposes the removal of religious protections.
- Argues that strengthening the EOA's religious protections for basic, historic moral and religious convictions will promote:
(a) international human rights to prioritise values and beliefs,
(b) civic harmony and compassionate care, and
(c) the hard-won Western liberty of open reasoned debate on truth and ethics.
Please carefully read it, notify your consent or refusal for your submission to be public, and then add your details, your consent for public disclosure, and consider adding your faith experiences. Consider explaining how the proposals will personally affect you and the religious organisations you belong to.
(If you do not tell the Commission you want your submission treated confidentially or that you wish your comments to be anonymous, it will treat it as public.)
Submissions must be made by Friday, 29 October 2021.
Email: equalopportunityreview@justice.wa.gov.au
Mail: Law Reform Commission, GPO Box F317, PERTH WA 6841
Please Note: This campaign is open to WA residents only.