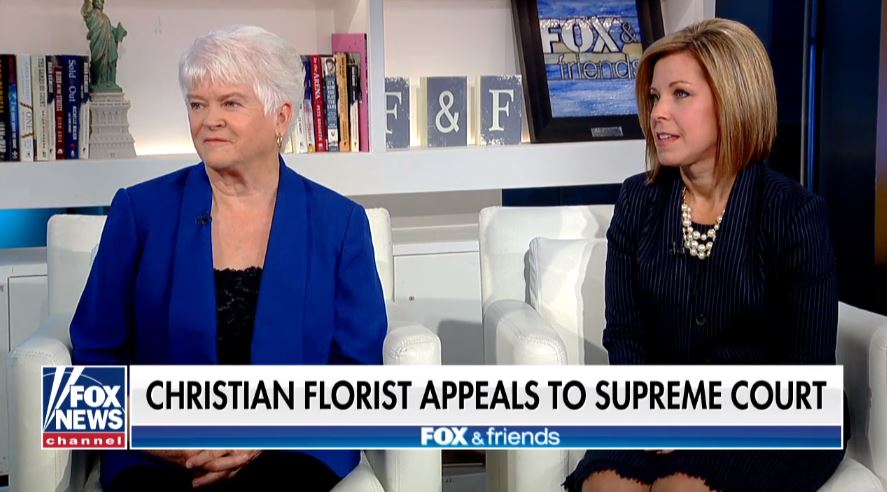 Christian florist Barronelle Stutzman's faces losing everything if the Supreme Court does not weigh into her religious freedom case.
That's according to her lawyer Kristen Waggoner from Alliance Defending Freedom, who is representing Stutzman in a legal battle over her refusal to participate in a "same-sex" wedding.
Appearing alongside her client on "FOX & Friends" recently, Waggoner said that in Masterpiece Cakeshop, the U.S. Supreme Court said the government can't express hostility toward people of faith.
"We now need it to weigh in on the broader principle to say it can't force creative professionals to create art or to have to participate in religious ceremonies", said Waggoner
"We have clients right now that are facing jail time. Jack Phillips [Christian baker] is in his third round of litigation and Baronelle is basically faced with losing all she owns unless the Supreme Court weighs in in this case."
Stutzman, who owns a florist business in the US state of Washington, said she had served Robert Ingersoll for almost ten years.
"When he came in to talk to me about his [same-sex] wedding, I just simply put my hands on his and told him I could not do it because of my relationship with Jesus Christ," Stutzman said.
"Without any complaint from Rob ... the attorney general from the state of Washington sued me personally and corporately simply because I have a different viewpoint on marriage".
Writing in an op-ed earlier this year, Stutzman wrote that:
Our ideals run up against each other. We disagree. Sometimes we debate. Sometimes we end up avoiding each other, or smiling and gently steering around the more sensitive points of disagreement. That's how we respect each other's freedom. That's how we get along.
But sadly, my home state of Washington has chosen not to get along with me. In June, my state Supreme Court reaffirmed what it said just over two years ago: that I must use my skills as a creative professional to express messages and to celebrate and participate in events that violate my faith.
And that's why I'm appealing to the U.S. Supreme Court once again. As a floral artist, I am required by law to use my soul and imagination, as well as my mind and hands, to design original floral arrangements that celebrate events and ideas I don't believe in.
Waggoner finished the interview saying that a win for Baronelle is a win for everyone.
"If you think about it, it protects an atheist musician from having to perform at an Easter service or a Democrat speech writer having to write for a Republican," said Waggoner.
"It's about tolerance being a two-way street," she added.