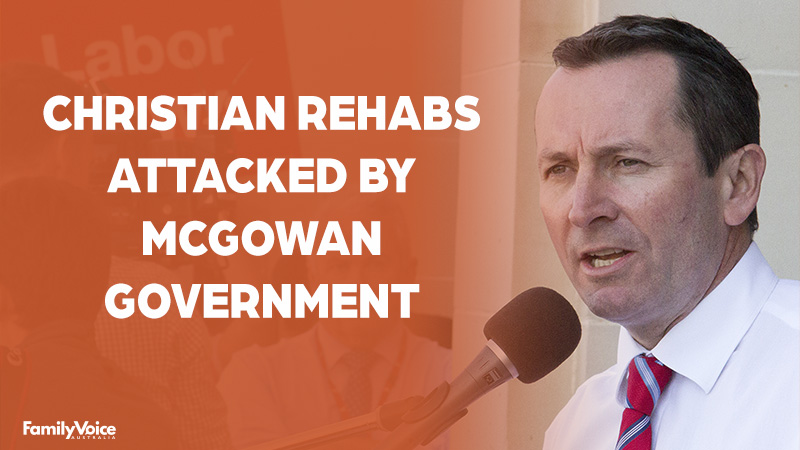 Christian mental health or addiction services who provide help to people confused about gender or sexuality will be subject to potential fines under new WA Labor proposals.
The McGowan government has announced it will use unsubstantiated allegations made through an 'Esther House' parliamentary inquiry to regulate and potentially fine private rehab services, including those who provide Christian counselling.
The Health Minister Amber-Jade Sanderson announced that "vulnerable women", who had spoken against the Esther House women's addiction service, were "allegedly mistreated", but did not say that the allegations were grounded in fact.
Stuart Aubrey MP stated that the women experienced "abuses in this [Esther] program", an allegation he made under parliamentary privilege.
He said, "We will ensure no more vulnerable people are abused by institutions who use regulatory gaps to avoid scrutiny by the government, who substitute evidence-based treatment for faith-based practises. We will ensure no more member of the LGBTQI+ community can be subjected to conversion or suppression practises in Western Australia."
Australian medical groups and researchers in gender clinics have openly opposed "conversion therapy" bans in Australia, because it prevents and withholds genuine evidence-based help for dysphoric people.
The Labor government proposes to empower The Health and Disability Services Complaints Office with new investigative and punitive powers over private mental health and alcohol and drug services.
The changes to the Health and Disability Services (Complaints) Act would enable punitive bans and fines for therapy or counselling that the government doesn't like, even if it is voluntary and highly effective for the enquirer.

In a similar pattern to the Victoria "suppression" ban motivated by a LaTrobe study of just 16 anonymous stories, a handful of WA women who allege "harm" are taken as sufficient proof of banning effective and healing therapy practises that have helped hundreds of people in Australia and worldwide find hope and healing.
The Government endorsed all five recommendations of the inquiry's authors, which are stacked with Labor MPs, including a prohibition on conversion practices.
Last year the McGowan Government announced the move to criminalise practices that seek to change or suppress an individual's sexual orientation or gender identity.
In February, Premier Mark McGowan promised he would legislate on "discrimination, harassment, vilification and victimization" and has previously proposed that the anti-suppression therapy ban would be modelled on the Victorian legislation.
In 2022, The McGowan government passed a bill giving its Health Complaints office the power to fine and ban 'unregulated health care workers' who break the "code of conduct" (which is currently undisclosed to the public), or who service in an "unacceptable manner", or an "unnecessary" service, or have been issued an interstate prohibition order (deemed to have broken Queensland, ACT or Victorian anti-therapy laws).
The bill added powers to regulate a health services for "an injury, or suspected disorder or injury", "dispensing a drug" or medicine, dispensing a therapeutic aid, or providing surgical treatment.
Failing to comply with a HADSCO order attracts a $30,000 fine for individual health workers, or $60,000 for organisations.
The new amendments are likely to extend these punitive powers over private services relating to mental health, licit or illicit drug and alcohol addiction.