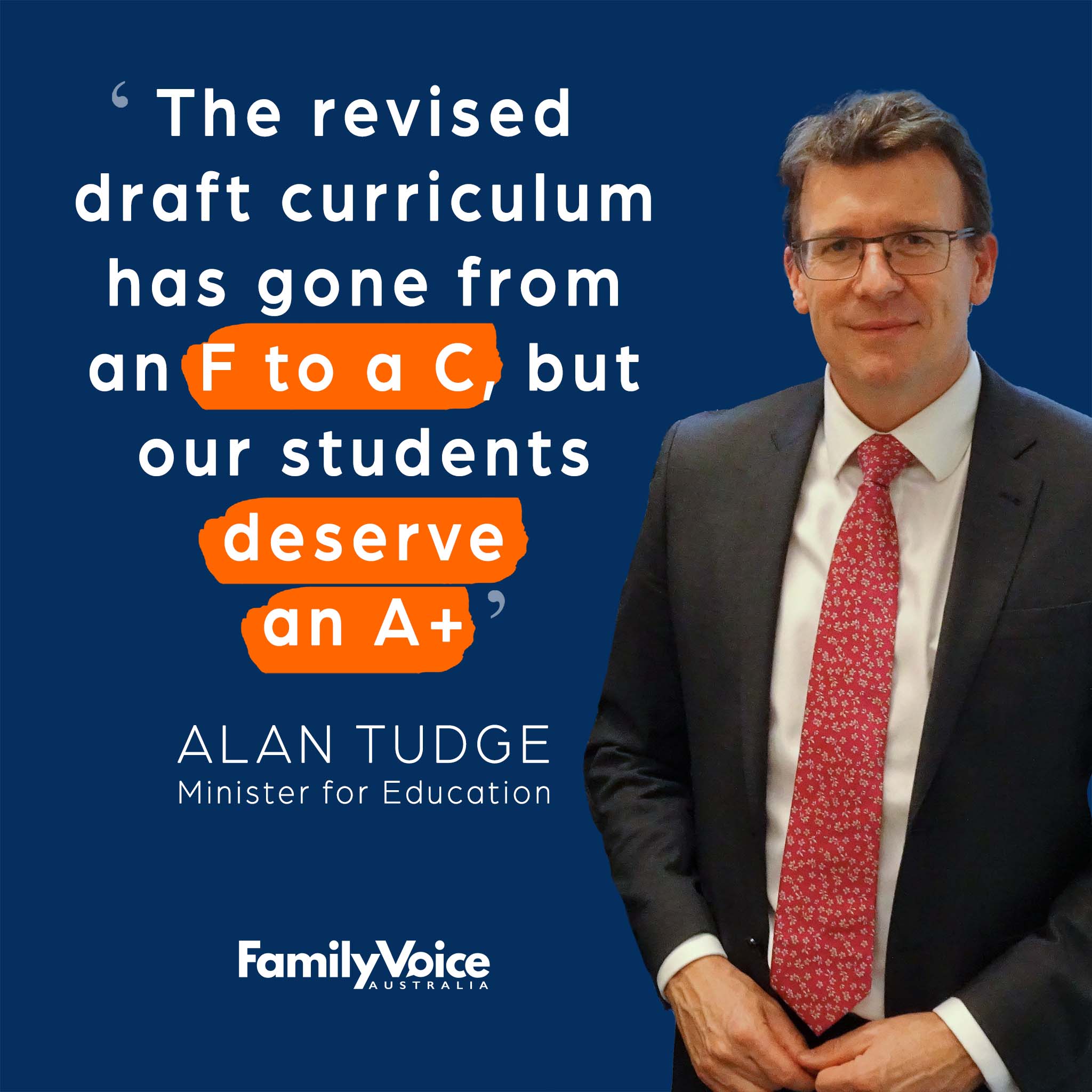 THIS CAMPAIGN HAS CLOSED.
---
Many thanks to FamilyVoice supporters like you, who have prayed and taken action concerning the draft National Curriculum, which Federal Education Minister Alan Tudge has again criticised.
His principled position is strengthened by the public expression of concern that you and others have raised; so well done to all who responded to our recent campaign on the National Curriculum!
Writing in The Australian newspaper last week (22/10), Minister Tudge critiqued the draft curriculum:
It gave the impression nothing bad happened before 1788 and almost nothing good has happened since. It downplayed our Western heritage. It omitted significant figures in our history such as Menzies, Howard and Whitlam. It almost erased Christianity from our past, despite it being the single most important influence on our modern development ….
Minister Tudge further critiqued its authors (ACARA – the Australian Curriculum, Assessment and Reporting Authority) as follows:
I have been crystal clear in my views to ACARA that significant rework was required. ACARA has taken this feedback seriously, along with thousands of pieces of public feedback.
This week I was briefed on some of these updates, but I am yet to see a full updated version of the curriculum. My initial view is that the revised draft curriculum has gone from an F to a C, but our students deserve an A+.
Here at FamilyVoice Australia we greatly value the highest standard of curriculum content, as we want the best for Australian children who will become the adults of tomorrow.
As we give input to Christian schools, and are developing biblically-based resources for students, it's vital that the National Curriculum continue to find room for such input.
The very future of the nation is at stake when we separate children from the heritage which has made Australia one of the most peaceful and prosperous of all the world's countries.
Hence, Minister Tudge rightly has highlighted the problem that 40 per cent of young Australians say that non-democratic government may be preferable or that it does not matter what kind of government system we have. That is a catastrophe.
The long-term sustainability of Australia also depends upon children obtaining the basic skills of literacy and numeracy. Hence, we are pleased that Minister Tudge has every expectation that a revised version of the curriculum will include a stronger and clearer focus on phonics, with age-old maths concepts also fully retained. This is very pleasing to us at FamilyVoice, as we've long championed the necessity of phonics-based systems of literacy.
In closing, please continue to pray for our ministry and please continue taking action as salt and light, so together we can defend all that is good and right for Australia's future.
Since politics is a largely thankless vocation, and since MPs are always in trouble with someone, no matter what they do, it would be very helpful if you could please send a quick email to encourage Education Minister Alan Tudge