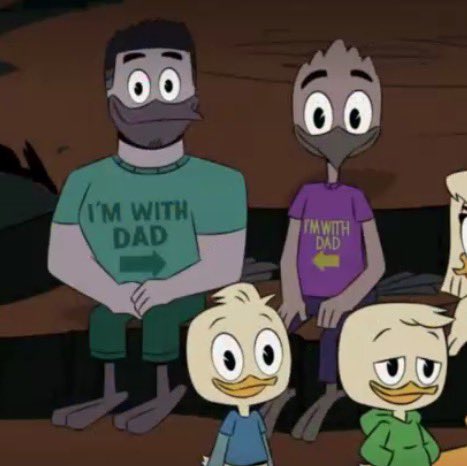 In the latest attempt to normalise same-sex parent arrangement, Disney has featured a 'gay' dad duo on their animated XD series, DuckTales.
The animated show had previously hinted about character Violet's gay dads, but the season three opener made it very clear.
In the latest episode, it's revealed that Violet's friend Lena has been adopted by Violet's two dads. The two gay characters are seen wearing shirts that read, "I'm With Dad" with arrows pointing at each other.
In one scene, Lena excitedly cheers for Violet, yelling, "That's my sister from a couple misters!" while their dads proudly clap at her side.
A step in the right direction for LGBT representation... Thank you so much, #DuckTales pic.twitter.com/0wVPLLm4zP

— kolbi 💕 (@PixieSphere) April 4, 2020
The show's co-executive producer Frank Angones lamented that the homosexual characters are not more prominent.
"Violet's dads are present and show up but do not play a huge role in the story thus far."
"…we had a lot of conversations about who Violet was and what her background was and came up with this fun notion of her too enthusiastic, overly supportive dads who love being dads."
Writing on Tumblr earlier this month, Agones made it clear that the introduction of the characters was a step at breaking down "heteronormative" stereotypes and indicated more LGTBQ themes were on the way.
"We've done pretty well on racial diversity and representation of people with limb differences, but we really have not done enough relevant LGBTQ+ rep. We do have some themes and ideas coming up that address relevant LGBTQ+ narratives," Agones said.