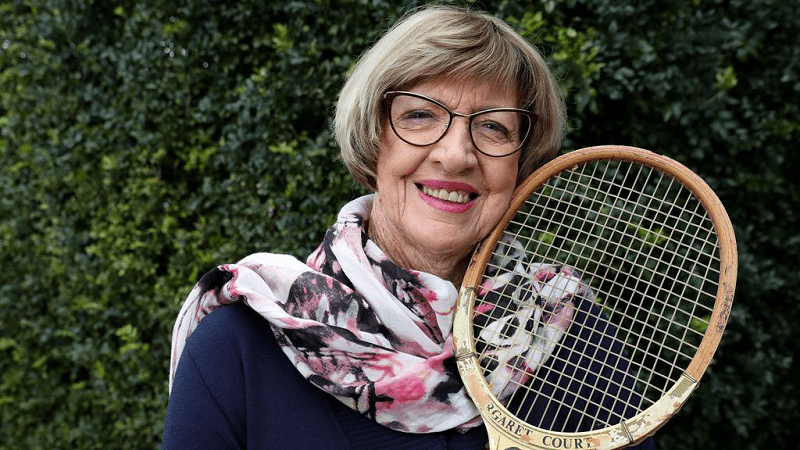 Ash Barty's Wimbledon win on Saturday – the first by an Australian woman at Wimbledon since Evonne Goolagong Cawley's victory in 1980 – is a huge achievement.
It was also the 50th anniversary of Goolagong Cawley's first win at Wimbledon in 1971.
But while there has been much media focus on Goolagong Cawley in the media – and rightly so – there has been a deafening silence around Margaret Court – a three-time Wimbledon singles champ.
In fact, one of the rare mentions Court has had in the media has been about her trending on Twitter.
Sky News host Rita Panahi reported that Margaret Court was trending on the social media platform "based on the absolute hate and hysteria of the left" amid Ash Barty's Wimbledon victory.
"Even in this wonderful moment where they should be celebrating Ash Barty they could not let go of the hate," Panahi said.
"There seemed to be more tweets about Margaret Court and how dare she be there ... and what right has she got to be there.
"Even in this jubilant moment, the hate is what just dominates their thinking."
It really is appalling the treatment that 24-time singles Grand Slam winner Margaret Court has been subjected to over a long period of time because of her Christian beliefs.
There have been ongoing calls for the arena named in her honour at Melbourne Park to be removed.
Last year, British tennis player Andy Murray said: "When you get to the Australian Open you want to concentrate on the tennis. Court's views detract from that," Murray said.
"As far as renaming the venue ... yes, it's something the sport should consider. I don't know who makes the final decision on that but I don't think her values are what tennis stands for."
Also last year, Margaret Court's charity had a grant application rejected because she holds faith-based views on marriage and gender.
Margaret Court's charity had invited Lotterywest to donate funding for a freezer truck that will assist the delivery of food to the needy. Lotterywest denied the grant, informing Margaret's husband the charity would not receive any funding. According to reports, Lotterywest said they would never give Margaret Court funding, as Lotterywest is the principal sponsor of WA's Pride Festival.
"As you know there's been a bit of publicity out there and just something I'd like to put straight," Court said at her church service at the time.
"I know when you're going through persecution, and Barry and Brian went into lottery's commission, and you know there was discrimination that came through all that."
Margaret went on to say that: "I'll always stand for marriage and that's my beliefs and I shouldn't be discriminated because of my beliefs. And I will always stand with the word of God and it's been brought up in me since I was little so I'm not going to change for anybody."
No one should be persecuted because of their Christian beliefs. Sadly, there is a concerted effort to marginalise people with Christian views. That's why it is so important that the Prime Minister deliver protections for religious freedom. Please send a quick message to the PM now!
For family, faith and freedom,
Peter Downie
National Director - FamilyVoice Australia