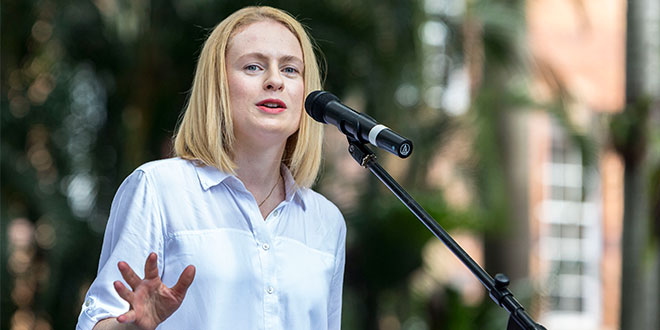 Queensland LNP Senator Amanda Stoker often shares our concerns on issues relating to family, faith and freedom. So this week I thought I should share her warnings about new "anti-conversion" laws in Australia.
These laws were recently passed in Queensland and the ACT. The Victorian government is going down the same path, and other states could follow.
Most Australians have no idea about what has happened. There has been very little information in the media, so Senator Stoker's comments need to be shared widely. Here is what she said in an email to supporters on 7 September:
Right on the back of new laws in Queensland, the rights of parents, teachers, psychologists and doctors were dealt a damaging blow with the passing of anti-conversion therapy laws in the ACT.
Nobody is advocating for archaic, harmful treatments, and indeed I and my colleagues are opposed to such practices.
But these laws go much further than simply doing this.
They potentially inflict criminal penalties on anyone just trying to provide care and support, particularly to young people, who are struggling with the difficult questions associated with gender identity.
Such laws strip parents of their responsibility and indeed their duty to raise and socialise their children to cope with the world around them.
Families need to be able to talk openly, freely, lovingly without fear of legal repercussions.
And our medical professionals need to be able to provide valid, clinical care in the best interests of their patients, rather than being compelled to simply lock patients into an affirmative model that remains medically controversial. This law criminalises the open scientific discussion that leads to improvements in clinical care – which can only harm people struggling with gender dysphoria.
Even the ACT Law Society has voiced its concerns about the vagueness of the laws, particularly around what exactly constitutes illegality under the legislation.
Similar laws introduced in Queensland a fortnight ago are not quite as far-reaching, but have medical professionals in the state equally concerned.
We must continue to be vigilant and call out these extreme ideological laws being passed under the pretence of "care" for our vulnerable young people.
I couldn't have put it better myself. Please pray that more MPs like Senator Stoker will speak out against harmful, unjust laws like these.
Peter Downie - National Director
FamilyVoice Australia