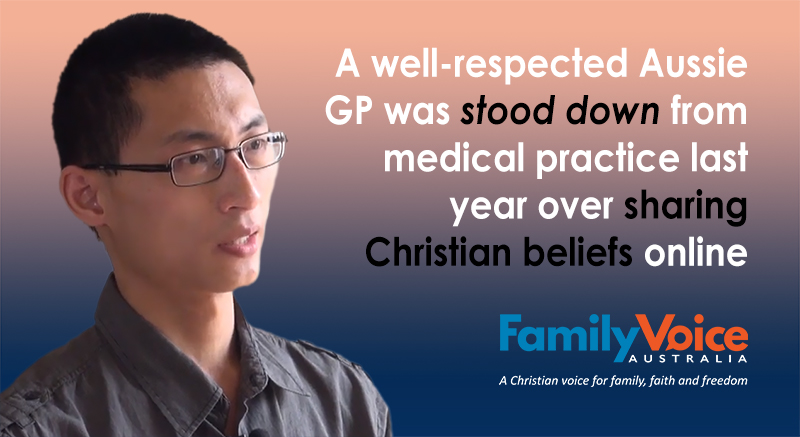 A well-respected GP was stood down from medical practice last year over sharing Christian beliefs online.
The married father of two who posted pro-life, pro-traditional marriage and transgenderism-critical views on his personal Facebook page and Christian websites has been forced to live from savings and the generosity of friends after his licence to practice was suspended indefinitely.
Dr Jereth Kok, a general practitioner, was suspended indefinitely in August 2019 after the Medical Board of Australia concluded an investigation questioning whether he had provided sub-standard care to LGBT people.
There have been no formal complaints about Jereth's treatment of patients in his 11 years as a GP.
The VCAT decision states: "No evidence was placed before us to show that in his actual practice Dr Kok has not endeavoured to protect and promote the health of individuals and the wider community. No evidence was placed before us to show that when consulting with his patients, Dr Kok does compromise their best interests."
In a bizarre twist, the complaints were made by unknown identities which the Board did not reveal to Jereth.
The Medical Board paid a company to compile a dossier, containing thousands of pages of material from online posts he made in the last 10 years.
The Human Rights Law Alliance responded on Jereth's behalf stating he had not failed to provide professional medical care to anyone and that he had a right to express his beliefs.
This is not the first time this has happened. At least half a dozen pro-traditional marriage or pro-life doctors have faced persecution from the Medical Board of Australia since 2017.