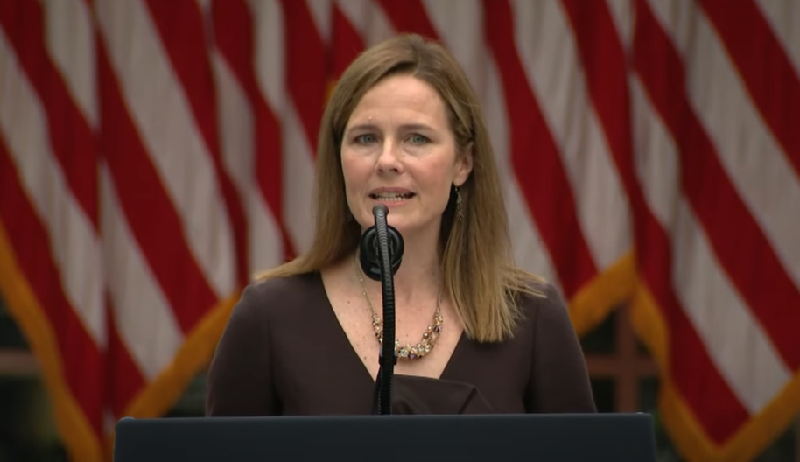 President Trump has nominated Judge Amy Coney Barrett to the US Supreme Court.
Barrett, a Catholic, will replace Ruth Bader Ginsburg who died recently.
Judge Barrett has seven children. Two are children adopted from Haiti and one has Down syndrome.
Democrats have made it clear that they will oppose Barrett, although given they do not have the numbers in the Republican-controlled Senate, it may change little.
It has been reported that Barrett's appointment will create a 6-3 conservative majority on the court.
"Any nominee should be an originalist with a public record demonstrating deep commitment to protecting Americans' constitutional freedoms, including religious freedom and free speech for all," said Alliance Defending Freedom President and CEO Michael Farris.
Farris said that Judge Barrett has an encouraging record of advocating for constitutional freedoms,
"[She] has repeatedly stated her commitment to decide cases based on law and not on personal opinion."
"President Trump could not have made a better decision," said Senate Majority Leader Mitch McConnell.
"Judge Amy Coney Barrett is an exceptionally impressive jurist and an exceedingly well-qualified nominee to the Supreme Court of the United States."
House Minority Whip Steve Scalise said that Barrett is another great Supreme Court pick by President Trump
"Amy Coney Barrett is an impeccable jurist and an extraordinarily thoughtful, principled woman committed to our Constitution—and a New Orleans native! She deserves a swift, fair Senate process focused on her qualifications," said Scalise.
Senate Judiciary Committee Chairman Lindsey Graham said that "Judge Barrett is highly qualified in all the areas that matter – character, integrity, intellect, and judicial disposition."
Pro-life advocates have been encouraged by the announcement and are hoping that it may signal the end of Roe v Wade, the landmark 1973 Supreme Court decision finding a "right" to abortion.
"I am thrilled with the nomination of Amy Coney Barrett", said pro-life activist and former Planned Parenthood abortion centre manager Abby Johnson.
"For those who plan to make Barrett's faith a matter of disqualification, that line of attack is not only inappropriate and bigoted, but bases the nominee's entire judicial career on everything but her merits and solid qualifications for the position."
Johnson said that this is "the moment that the pro-life movement and those who hold all life to be dear and treasured have been waiting for".
The Judiciary Committee hearings into the appointment of Barrett will commence October 12.