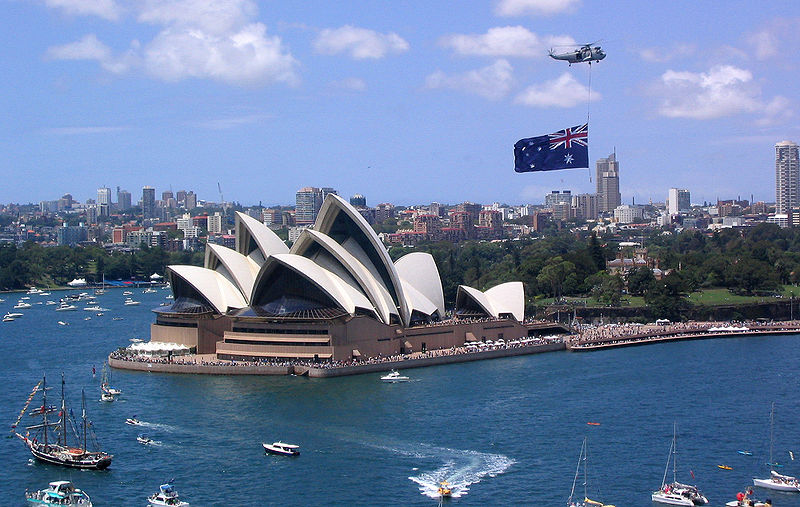 By Darryl Budge
Australia Day is a day to remember in our history - the date of the First Fleet landing, in 1788.
Efforts to change the date arguably represent historical revisionism, which, rather than healing people, will produce merely a temporary change in external emotions.
Lasting change in individuals and across society comes from forgiveness and inner reconciliation, not outward platitudes.
This was reflected in public prayers of reconciliation made in 1988.
In that year there was a service in St Andrew's Cathedral to mark the 200th anniversary of the gospel arriving on this continent.
The Primate of the Australian Anglican Church made this public statement… addressing Australia's first Aboriginal Bishop, Arthur Malcolm of Yarrabah.
𝘔𝘺 𝘉𝘳𝘰𝘵𝘩𝘦𝘳 𝘪𝘯 𝘊𝘩𝘳𝘪𝘴𝘵,
𝘞𝘦 𝘩𝘢𝘷𝘦 𝘤𝘰𝘮𝘦 𝘵𝘰𝘨𝘦𝘵𝘩𝘦𝘳 𝘵𝘰 𝘨𝘪𝘷𝘦 𝘵𝘩𝘢𝘯𝘬𝘴 𝘵𝘰 𝘈𝘭𝘮𝘪𝘨𝘩𝘵𝘺 𝘎𝘰𝘥 𝘧𝘰𝘳 𝘩𝘪𝘴 𝘱𝘳𝘰𝘵𝘦𝘤𝘵𝘪𝘰𝘯 𝘢𝘯𝘥 𝘱𝘳𝘰𝘷𝘪𝘴𝘪𝘰𝘯 𝘧𝘰𝘳 𝘵𝘩𝘪𝘴 𝘯𝘢𝘵𝘪𝘰𝘯 𝘥𝘶𝘳𝘪𝘯𝘨 𝘵𝘩𝘦 𝘭𝘢𝘴𝘵 𝘵𝘸𝘰 𝘩𝘶𝘯𝘥𝘳𝘦𝘥 𝘺𝘦𝘢𝘳𝘴 𝘰𝘧 𝘌𝘶𝘳𝘰𝘱𝘦𝘢𝘯 𝘴𝘦𝘵𝘵𝘭𝘦𝘮𝘦𝘯𝘵. 𝘠𝘰𝘶 𝘢𝘯𝘥 𝘐 𝘢𝘯𝘥 𝘢𝘭𝘭 𝘰𝘧 𝘶𝘴 𝘪𝘯 𝘵𝘩𝘪𝘴 𝘤𝘢𝘵𝘩𝘦𝘥𝘳𝘢𝘭 𝘳𝘦𝘤𝘰𝘨𝘯𝘪𝘴𝘦 𝘤𝘭𝘦𝘢𝘳𝘭𝘺 𝘵𝘩𝘢𝘵 𝘺𝘰𝘶𝘳 𝘱𝘦𝘰𝘱𝘭𝘦, 𝘵𝘩𝘦 𝘢𝘣𝘰𝘳𝘪𝘨𝘪𝘯𝘢𝘭 𝘱𝘦𝘰𝘱𝘭𝘦, 𝘸𝘦𝘳𝘦 𝘩𝘦𝘳𝘦 𝘰𝘯 𝘵𝘩𝘪𝘴 𝘭𝘢𝘯𝘥 𝘣𝘦𝘧𝘰𝘳𝘦 𝘢𝘯𝘺 𝘰𝘧 𝘵𝘩𝘦 𝘱𝘦𝘰𝘱𝘭𝘦 𝘧𝘳𝘰𝘮 𝘌𝘶𝘳𝘰𝘱𝘦 𝘢𝘳𝘳𝘪𝘷𝘦𝘥. 𝘞𝘩𝘦𝘯 𝘵𝘩𝘦 𝘌𝘶𝘳𝘰𝘱𝘦𝘢𝘯 𝘗𝘦𝘰𝘱𝘭𝘦 𝘥𝘪𝘥 𝘤𝘰𝘮𝘦, 𝘮𝘶𝘤𝘩 𝘮𝘪𝘴𝘶𝘯𝘥𝘦𝘳𝘴𝘵𝘢𝘯𝘥𝘪𝘯𝘨 𝘵𝘰𝘰𝘬 𝘱𝘭𝘢𝘤𝘦, 𝘸𝘩𝘪𝘤𝘩 𝘤𝘢𝘶𝘴𝘦𝘥 gre𝘢𝘵 𝘴𝘶𝘧𝘧𝘦𝘳𝘪𝘯𝘨 𝘵𝘰 𝘺𝘰𝘶𝘳 𝘱𝘦𝘰𝘱𝘭𝘦 𝘢𝘯𝘥 𝘪𝘴 𝘴𝘵𝘪𝘭𝘭, 𝘦𝘷𝘦𝘯 𝘵𝘰𝘥𝘢𝘺, 𝘩𝘢𝘷𝘪𝘯𝘨 𝘪𝘵𝘴 𝘦𝘧𝘧𝘦𝘤𝘵. 𝘛𝘩𝘪𝘴 𝘩𝘢𝘴 𝘤𝘢𝘶𝘴𝘦𝘥 𝘢 𝘨𝘳𝘢𝘷𝘦 𝘣𝘳𝘦𝘢𝘬𝘥𝘰𝘸𝘯 𝘪𝘯 𝘵𝘩𝘦 𝘤𝘶𝘭𝘵𝘶𝘳𝘦 𝘢𝘯𝘥 𝘭𝘪𝘧𝘦𝘴𝘵𝘺𝘭𝘦 𝘰𝘧 𝘺𝘰𝘶𝘳 𝘱𝘦𝘰𝘱𝘭𝘦.
𝘔𝘢𝘺 𝘐 𝘦𝘹𝘱𝘳𝘦𝘴𝘴 𝘰𝘯 𝘣𝘦𝘩𝘢𝘭𝘧 𝘰𝘧 𝘢𝘭𝘭 𝘯𝘰𝘯-𝘈𝘣𝘰𝘳𝘪𝘨𝘪𝘯𝘢𝘭 𝘱𝘦𝘰𝘱𝘭𝘦 𝘰𝘧 𝘰𝘶𝘳 𝘤𝘩𝘶𝘳𝘤𝘩 𝘰𝘶𝘳 𝘱𝘳𝘰𝘧𝘰𝘶𝘯𝘥 𝘴𝘰𝘳𝘳𝘰𝘸 𝘧𝘰𝘳 𝘵𝘩𝘦 𝘴𝘶𝘧𝘧𝘦𝘳𝘪𝘯𝘨 𝘵𝘩𝘢𝘵 𝘺𝘰𝘶𝘳 𝘱𝘦𝘰𝘱𝘭𝘦 𝘩𝘢𝘷𝘦 𝘩𝘢𝘥 𝘵𝘰 𝘦𝘯𝘥𝘶𝘳𝘦, 𝘸𝘪𝘵𝘩 𝘪𝘵𝘴 𝘷𝘪𝘰𝘭𝘦𝘯𝘤𝘦 𝘢𝘯𝘥 𝘩𝘶𝘳𝘵. 𝘞𝘦 𝘩𝘶𝘮𝘣𝘭𝘺 𝘢𝘴𝘬 𝘎𝘰𝘥'𝘴 𝘧𝘰𝘳𝘨𝘪𝘷𝘦𝘯𝘦𝘴𝘴 ; 𝘢𝘯𝘥 𝘸𝘦 𝘴𝘦𝘦𝘬 𝘺𝘰𝘶𝘳 𝘧𝘰𝘳𝘨𝘪𝘷𝘦𝘯𝘦𝘴𝘴 𝘢𝘴 𝘢 𝘭𝘦𝘢𝘥𝘦𝘳 𝘰𝘧 𝘺𝘰𝘶𝘳 𝘱𝘦𝘰𝘱𝘭𝘦, 𝘧𝘰𝘳 𝘵𝘩𝘦 𝘢𝘤𝘵𝘪𝘰𝘯𝘴 𝘰𝘧 𝘵𝘩𝘦 𝘱𝘢𝘴𝘵 𝘢𝘯𝘥 𝘵𝘩𝘰𝘴𝘦 𝘤𝘢𝘶𝘴𝘪𝘯𝘨 𝘩𝘶𝘳𝘵 𝘢𝘵 𝘵𝘩𝘦 𝘱𝘳𝘦𝘴𝘦𝘯𝘵 𝘵𝘪𝘮𝘦. 𝘞𝘦 𝘩𝘢𝘷𝘦 𝘭𝘰𝘯𝘨𝘦𝘥 𝘵𝘰 𝘴𝘩𝘢𝘳𝘦 𝘸𝘪𝘵𝘩 𝘺𝘰𝘶𝘳 𝘱𝘦𝘰𝘱𝘭𝘦 𝘵𝘩𝘦 𝘨𝘰𝘴𝘱𝘦𝘭 𝘰𝘧 𝘰𝘶𝘳 𝘓𝘰𝘳𝘥 𝘑𝘦𝘴𝘶𝘴 𝘊𝘩𝘳𝘪𝘴𝘵. 𝘞𝘦 𝘤𝘰𝘯𝘧𝘦𝘴𝘴 𝘰𝘶𝘳 𝘦𝘯𝘥𝘦𝘢𝘷𝘰𝘶𝘳 𝘩𝘢𝘴 𝘰𝘧𝘵𝘦𝘯 𝘧𝘢𝘭𝘭𝘦𝘯 𝘴𝘩𝘰𝘳𝘵 𝘰𝘧 𝘩𝘪𝘴 𝘭𝘰𝘷𝘦. 𝘞𝘦 𝘸𝘢𝘯𝘵 𝘵𝘰 𝘸𝘢𝘭𝘬 𝘵𝘰𝘵𝘩𝘦𝘳 𝘸𝘪𝘵𝘩 𝘺𝘰𝘶 𝘴𝘩𝘢𝘳𝘪𝘯𝘨 𝘢𝘯𝘥 𝘭𝘦𝘢𝘳𝘯𝘪𝘯𝘨 𝘵𝘰𝘨𝘦𝘵𝘩𝘦𝘳, 𝘢𝘤𝘤𝘦𝘱𝘵𝘪𝘯𝘨 𝘢𝘯𝘥 𝘳𝘦𝘴𝘱𝘦𝘤𝘵𝘪𝘯𝘨 𝘦𝘢𝘤𝘩 𝘰𝘵𝘩𝘦𝘳. 𝘏𝘦𝘭𝘱 𝘶𝘴 𝘵𝘰 𝘭𝘪𝘴𝘵𝘦𝘯 𝘵𝘰 𝘺𝘰𝘶. 𝘏𝘦𝘭𝘱 𝘶𝘴 𝘵𝘰 𝘭𝘦𝘢𝘳𝘯 𝘧𝘳𝘰𝘮 𝘺𝘰𝘶.
𝘗𝘭𝘦𝘢𝘴𝘦 𝘢𝘤𝘤𝘦𝘱𝘵 𝘰𝘶𝘳 𝘴𝘰𝘳𝘳𝘰𝘸 𝘧𝘰𝘳 𝘵𝘩𝘦 𝘱𝘢𝘴𝘵 𝘢𝘯𝘥 𝘵𝘩𝘦 𝘴𝘦𝘦𝘬𝘪𝘯𝘨 𝘰𝘧 𝘺𝘰𝘶𝘳 𝘧𝘰𝘳𝘨𝘪𝘷𝘦𝘯𝘦𝘴𝘴. 𝘔𝘢𝘺 G𝘰𝘥 𝘨𝘪𝘷𝘦 𝘢𝘭𝘭 𝘰𝘧 𝘶𝘴 𝘨𝘳𝘢𝘤𝘦 𝘵𝘰 𝘤𝘰𝘯𝘵𝘳𝘪𝘣𝘶𝘵𝘦 𝘵𝘰 𝘵𝘩𝘦 𝘱𝘳𝘰𝘨𝘳𝘦𝘴𝘴 𝘰𝘧 𝘵𝘩𝘪𝘴 𝘯𝘢𝘵𝘪𝘰𝘯 𝘢𝘯𝘥 𝘪𝘵𝘴 𝘩𝘢𝘳𝘮𝘰𝘯𝘺 𝘢𝘯𝘥 𝘱𝘦𝘢𝘤𝘦.
In the Cathedral that day in 1988, our first Aboriginal Bishop, Bishop Arthur Malcolm then led in prayer.
𝘋𝘦𝘢𝘳 𝘎𝘰𝘥. 𝘠𝘰𝘶 𝘩𝘢𝘷𝘦 𝘧𝘰𝘳𝘨𝘪𝘷𝘦𝘯 𝘰𝘶𝘳 𝘴𝘪𝘯𝘴; 𝘱𝘭𝘦𝘢𝘴𝘦 𝘦𝘯𝘢𝘣𝘭𝘦 𝘶𝘴 𝘵𝘰 𝘧𝘰𝘳𝘨𝘪𝘷𝘦 𝘦𝘢𝘤𝘩 𝘰𝘵𝘩𝘦𝘳. 𝘓𝘰𝘳𝘥 𝘑𝘦𝘴𝘶𝘴, 𝘣𝘳𝘪𝘯𝘨 𝘩𝘦𝘢𝘭𝘪𝘯𝘨 𝘢𝘯𝘥 𝘳𝘦𝘤𝘰𝘯𝘤𝘪𝘭𝘪𝘢𝘵𝘪𝘰𝘯 𝘵𝘰 𝘵𝘩𝘪𝘴 𝘯𝘢𝘵𝘪𝘰𝘯, 𝘢𝘯𝘥 𝘮𝘢𝘬𝘦 𝘶𝘴 𝘢 𝘱𝘦𝘰𝘱𝘭𝘦 𝘸𝘩𝘰 𝘸𝘪𝘭𝘭 𝘸𝘢𝘭𝘬 𝘢𝘯𝘥 𝘭𝘪𝘷𝘦 𝘵𝘰𝘨𝘦𝘵𝘩𝘦𝘳 𝘪𝘯 𝘭𝘢𝘴𝘵𝘪𝘯𝘨 𝘢𝘤𝘤𝘦𝘱𝘵𝘢𝘯𝘤𝘦 𝘢𝘯𝘥 𝘳𝘦𝘴𝘱𝘦𝘤𝘵 𝘧𝘰𝘳 𝘦𝘢𝘤𝘩 𝘰𝘵𝘩𝘦𝘳. 𝘐𝘯 𝘑𝘦𝘴𝘶𝘴' 𝘯𝘢𝘮𝘦 𝘢𝘯𝘥 𝘧𝘰𝘳 𝘩𝘪𝘴 𝘴𝘢𝘬𝘦. 𝘈𝘮𝘦𝘯.
To accomplish healing of deep hurts, it seems proper to keep the Australia Day date and what it commemorates, as it maintains an honest view of history.
It may also be necessary for many to have another date to mourn, weep and lament.
In Australia the 26th of May is National Sorry Day, and there is a celebration of Aboriginal culture during NAIDOC week, the first full week in July each year.
This suggests there are already eight days of reflection on Aboriginal causes, when many rightly lament the real suffering upon their people.
It seems adequate to have one annual day in Australia that is a celebration of the positive contribution of Christian and western culture to our nation.