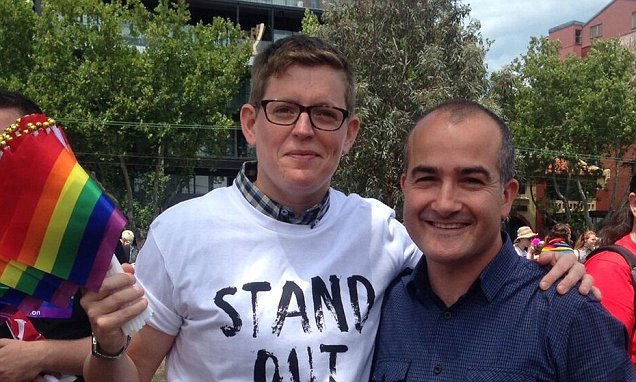 Safe Schools Manager Roz Ward (left)
I was tempted to let One Nation MP Mark Latham write this article.
He introduced his Parental Rights Bill in the NSW Legislative Council last week (5 August 2020). And –I can hardly believe that I am saying this – I agreed with every word he said.
He spoke more than 4000 words, so there's no way I can quote them all. But I've included an edited selection to show why this Whitlam-mentored, former ALP leader now has conservatives cheering.
Hon Mark Latham MLC
The purpose of the Education Legislation Amendment (Parental Rights) Bill 2020 is:
to outlaw gender fluidity teaching, course development and teacher training in the New South Wales education system;
to reassert the rights and role of parents in the moral, ethical, political and social development of their children.
The parliament should legislate to defend the family unit and the biological science of gender. Parents, not schools, are the teachers of the values of their children. There are some fine teachers in the education system, but at the end of the day they come and go while parents are there 24/7, loving, nurturing, and dealing with the problems late at night and on weekends.
I congratulate the Berejiklian government on removing the Safe Schools program from the New South Wales curriculum. The government has some good intentions, but good intentions are not enough. The state government has lost control of the education system. It is run by bureaucrats, the Teachers Federation and what I call the education establishment.
The Teachers Federation has on its website all the material that the government thought it had banned, including the Stand Out Minus 18 guide, written by Roz Ward in 2011 for the Victorian Safe Schools Coalition; the Gayby Baby curriculum guide, showing teachers how they can fit gender fluidity teaching into existing school syllabuses; and a series of Safe School information kits also written by Roz Ward.
Roz Ward has admitted that Safe Schools was never an anti-bullying program. Ward has said that it was only ever neo-Marxist indoctrination.
The University of Newcastle has issued a classroom practice manual for teachers, depicting gender and families as "socially constructed" and urging kindergarten children—five- and six-year-olds—to think of nuclear family structures as "problematic". Parents are being marginalised.
Since I was elected to this Parliament 16 months ago, my office has had a constant stream of complaints about politics in schools. Parents are sick and tired of their kids texting them to say that day's English class was actually gender studies again. Parents are sick and tired of teachers and school counsellors telling their children that gender is a choice. Parents are sick and tired of students being lectured about political issues, but with only one side of the story being told.
This bill is unequivocally on the side of parents and their children. The time has come to protect their rights in law.
I congratulate Mark Latham on his important research. The notorious "Safe Schools" program is far from dead, even in states that have supposedly banned it.
Mark's office told us that his bill has been referred to a parliamentary committee to identify ways it can be most effective.
Please pray for him, and for us as we rally support for his bill.
Peter Downie - National Director